Local breweries are pairing up for a unique, collaborative beer party.
The Wild West Collab Fest will cap off Utah Craft Beer Week, a week dedicated to all things craft beer in Utah.
presented by Utah Brewers Guild & Woodbine Food Hall with  CanCraft & Slackwater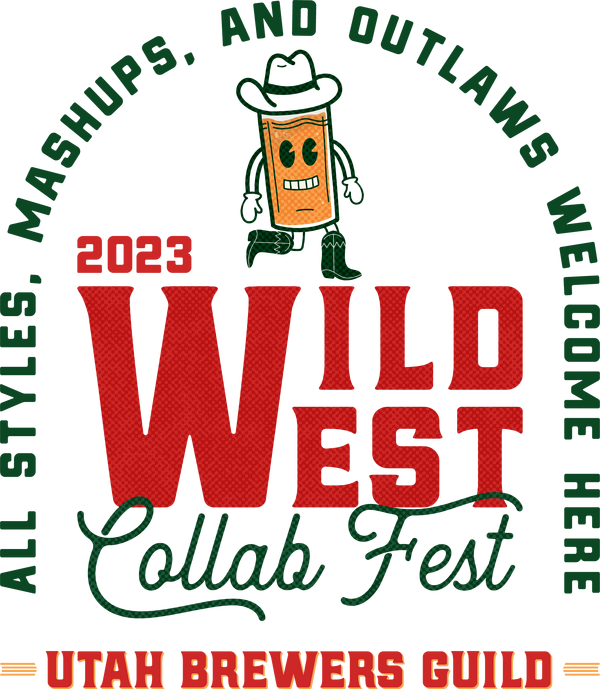 Details
Saturday, June 10, 2023
12pm-1pm VIP tasting hour
1pm-8pm general admission
7:45pm Last Call
Woodbine Food Hall
545 West 700 South, Salt Lake City, UT 84101
All ages are welcome!
Tickets
12 and under - Free
12 and up Ticket without Tasting Pass - $10
21 and up Ticket + Tasting Pass - $25
21 and up VIP Ticket + Tasting Pass w/early entry - $55
Tasting Pass required to consume alcohol on-premises, passes are non transferable.  Day of tickets, if available, will vary in price.  Minors are only permitted with an adult immediately present. 
Each UBG member brewery is teaming up with a partner to create a one-off event draft beer for attendees to sample at the event. 
This is a brew fest designed by craft brewers for everyone and provides the opportunity for Utah Brewers Guild members to showcase their craft beer to the community through samples and education on the collaboration beers. 
This event, created by brewers, focuses entirely on our growing state-wide brewing community, furthering the Guild's mission to promote and support our industry.  Part of what makes this festival unique from others occurring within our state are the collaboration brews featuring beers made to embody the spirit of cooperation and knowledge sharing within the craft beer industry.
Details
The Utah Brewers Guild Collab Fest is Saturday, June 10, 2023
VIP tix ($55), first come, first served, while supplies last. Day of VIP tix (if available) will be $65. Day of GA tickets will be available at the door ($30 ) with a credit or debit card.
VIP tix entrance opens at 12 pm.
GA tix entrance opens at 1 pm.
The last call is at 7:45 pm.
The festival is at Woodbine Food Hall, 545 West 700 South, in Salt Lake City's Granary District. There is plenty of street parking near the venue for designated drivers. Consider using rideshare, biking, and or riding public transportation. 
Things to Remember
Bring your ID. ID is required to consume alcohol. Minors are only permitted with an adult immediately present. 
No re-entry
Sorry, no pets
Tasting Pass is required to consume alcohol on-premises. Passes are non-transferable. Tasting pass holders will receive a 3oz tasting glass and a punch pass for 12 samples. A tasting passport will track your samples inside the festival. Pass holders may only have one sample at a time. Additional pours may be purchased (high point and draft) with a punch pass you can buy with your credit or debit card inside the festival.
This event is ADA-accessible. For any specific questions or concerns about accessibility, please email us.  
Schedule
7 am - 12 pm: Event set-up
10 am - 12 pm: Brewers arrive to pick up packets. 
10 am- 12 pm: Welcome Brewers Brunch 
12 pm - 8 pm: Gates open to VIP guests
1 pm - 8 pm: Gates open to all GA ticket holders
7:45 pm - Last call!
8 pm - Wild West Collab Fest ends
8 pm - 10 pm: Event tear-down
The Collabs
36 participating breweries and collaborators, 19 new collab brews! 
Hopkins Brewing Company & Ogden Beer Company
Crispy the Kid
Rice Lager
A dry, refreshing, and crushable rice lager with a crisp and clean character.
Fisher Brewing & Salt Flats Brewing Co.
Salt Fisher Wit
Prickly Pear Witbier
A unique witbier with prickly pear fruit, combining refreshing flavors of a traditional witbier with a succulent sweetness and mild tang.
Proper Brewing Co & Bewilder Brewing Co
Steeplejack
English IPA
A tribute to skilled workers, this English IPA showcases a balanced blend of hop flavors with earthy, floral, citrus, and spice notes.
Policy Kings Brewery & UTOG Brewing Co.
Love Me Oolong
Pale Ale
A pale ale brewed with Oolong black tea and lemon puree, offering a crisp, clean, and full-bodied experience with balanced bitterness.
Oskar Blues Brewery & Wasatch Brewery
Kernza Calypso Crescendo IPL
A single-hopped lager brewed with Kernza, a type of wheatgrass, resulting in a light-bodied beer with medium bitterness and unique flavors.
Chappell Brewing & Zion Brewery
Finish Your Froot Loops
Cream Ale
A cream ale brewed with Vienna malt, flaked corn, toasted oats, lactose sugar, lemongrass, and kaffir lime leaves, providing a crisp and clean beer reminiscent of Froot Loops cereal.
Utah Ale Trail & Level Crossing Brewing
Mix Tape Vol.1
Fruit IPA
Inspired by summer memories, this fruit IPA is brewed with a mix of hops and infused with either raspberries or peaches, offering a refreshing and nostalgic taste.
Offset Bier & Level Crossing Brewing
No Budgie
IPA
An IPA hopped with three distinctive Australian hops, resulting in a mesmerizing blend of tropical fruit, citrus, and resinous notes.
Grid City Beer Works & Strap Tank Brewery
Spirit World Sour Saison
Wine/hybrid Sour Saison
A beer that blends wine and beer realms, featuring French Pilsner malt, triticale, spelt, Sauvignon Blanc juice, and unique yeast, creating a crisp and refreshing sour saison.
Salt Lake Brewing Co. & Mountain West Cider
Tiger's Blood Cider
Fruited Cider
A cider co-fermented with watermelon, strawberries, and coconut, offering a vibrant red color and a sweet yet slightly tart flavor profile.
Salt City Suds & Park City Brewing
Salt City Haze
Hazy Pale Ale
A collaborative beer with the Salt City Suds Podcast, brewed with a creamy malt base and a massive charge of Nectaron, Citra, and Mosaic hops, resulting in citrus and melon notes.
Kiitos Brewing & Squatters Craft Beers
Ginger Lime Rye Sour

A genetically engineered yeast-based beer resembling a tart Moscow Mule, featuring lime, ginger, and spicy rye flavors, accompanied by floral and spicy hop notes.
TF Brewing & Helper Beer
Two Family Pilsner
German Pilsner
A classic German-style Pilsner that embodies a clean and crisp profile, paying tribute to two brewing families and their shared passion for the craft.
Lovelady Brewing & Silver Reef Brewing Co
Silver Lady Desert Orchard Farmhouse Ale
Infused with pomegranate and cherry, this farmhouse ale celebrates Nevada and Utah's flavors and agricultural heritage.
Bad Joker Brewing & Vernal Brewing CO
The Boys Berries
White Stout
A white stout combining rich and smooth stout character with boysenberries' tart and juicy flavors.
Moab Brewery & RoHa Brewing Project
Humpback Chub River Water IPA
Lactose IPA
A creamy and hoppy IPA that offers tropical flavors and a smooth texture, aiming to lead the way through the hazy IPA craze.
Epic Brewing Company & Prodigy Brewing
Tranquili-Tea
Chamomile Hefeweizen
A hefeweizen infused with chamomile, delivering a smooth and crisp texture alongside a delightful hoppy and fruity profile.
Chappell Brewing & Park City Brewing
Red Rocket
NW Amber Rye
An NW amber ale brewed with Mosaic hops, featuring dank hop and stone fruit aromas, crisp rye notes, and a clean bitter finish.
Uinta Brewing & Odell Brewing
Handshake Deal: A Cutthroat Collaboration
Pale Ale
A Hoppy Pale Ale collaboration between Uinta Brewing and Odell Brewing. This beer combines the bold flavors of Roy Farms hops with the adventurous spirit of the desert.
Call for Volunteers! 
Are you passionate about craft beer and looking for a fun way to get involved in the community? We're seeking volunteers for the upcoming Wild West Collab Fest on June 10th!
As a volunteer, you'll work alongside other beer enthusiasts and help make the festival a huge success. Duties may include pouring beer, ticket sales, assisting with set-up and tear-down, and helping festival-goers find their way around.
No previous experience is required, just a positive attitude and a willingness to lend a hand. Plus, volunteers receive free admission to the festival and a special gift to show our appreciation.
If you're interested in volunteering, please fill out an application. We can't wait to work with you!

2022 Collab Fest Gallery
Photos by RJ Castillo